Aside from cards and candy, there are many great ways to celebrate this year's Valentine's Day with your little ones. Here are three unique ways to make February 14th a fun day for your family.
Make A Valentine's Feast
Why not plan a full day's menu in advance, preparing each course together? Here are some ideas to get you started:
-For breakfast, use a heart cookie cutter to produce heart-shaped French toast. To add a traditional hue, consider topping it with fresh red strawberries or raspberry jam!
-For lunch or dinner, how about a heart-shaped meatloaf? You can accompany dinner with sparkling cider in plastic champagne glasses. After all, this is a fancy dinner!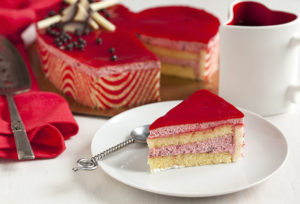 -After your fine meal, dessert of the highest caliber is in order. Raspberry tarts and sugar cookies with pink frosting make excellent choices! Get your kids involved in the dessert decorations.
Crafts
Rather than using store-bought decorations, add a personal touch to your Valentine's Day by creating beautiful, handmade decor that you can use to embellish your home and give the holiday a personal touch. Part of the fun is taking pictures and creating memories during the crafting process!
Try your hand at making pink, white, and red paper chains that can cascade from the ceiling, or cut out and decorate dainty heart ornaments for the refrigerator door.
Homemade valentines are another great crafting option. These handmade gifts are much more personal than the packages bought at the store, and they allow your children to consider the people closest to their hearts.
Have your children gather construction paper, doilies, glitter, markers, and crayons to craft personalized cards and messages for the people they love most, including grandparents, aunts and uncles, and favorite teachers.
Have A Party
The tried and true classic idea for Valentine's Day, of course, is to throw a themed gala! Invite your children's classmates or neighborhood friends for a party meant just for kids. Your children will have a blast helping you decorate for the event, and you can enlist their help in any Valentine-themed food decorations as well.
If it's too cold to go outside, try having an indoor movie night for your party, complete with handmade tickets, love-themed flicks, and homemade popcorn and sweets.
If it's warm enough for an outdoor event, plan some friendly competitions like races, dance contests, and more. You can also look for inflatable slides or bounce houses for the event to encourage more physical activity!
---
Whether you're spending a night in doing crafts with your loved ones or planning a spectacular gala, make sure to involve your children in the process. Valentine's Day can be a great opportunity to show your children how much you love them while getting them involved in the fun!
Sign up for our email updates to have more party ideas like these delivered straight to your inbox!