We've Been Asked A Lot of Questions.
Space Walk rents inflatables for thousands of parties and events all over the United States every year. We wanted to share a little bit of knowledge gained from that experience to address our customer's top questions and concerns.
Whether you're interested in a bounce house, water slide, obstacle course, or sports game we've got the answer to your questions!
---
 Will my bounce house fly away?
No! Safety is our top priority. We make sure every inflatable has stakes, sand-bags, or water bags at all tie-down points. Our stakes are huge! 24 inches tall forged from steel. As a precaution our branch managers re-schedule or postpone reservations when the forecast projects wind gusts in excess of 20 mph.
When you're preparing for an event follow our 5-step guide to make sure you're prepared for a safe and fun event.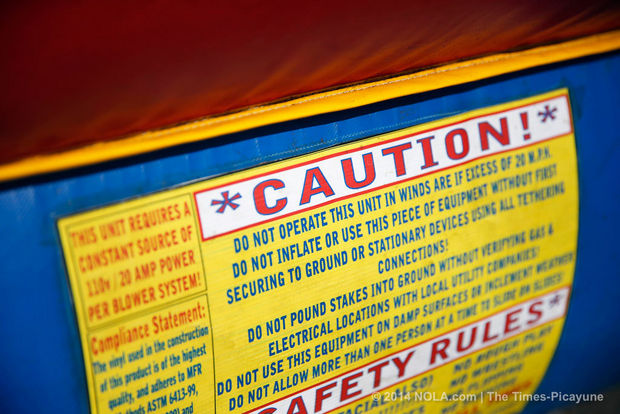 Photo by Kathleen Flynn, NOLA.com | The Times-Picayune
Why have I seen other bounce houses fly away?
The 'flyaway bounce houses' you hear about are typically consumer-grade products available at Wal-Mart or Target. These toys are 25 lbs, allowing them to be easily swept away up by light wind gusts.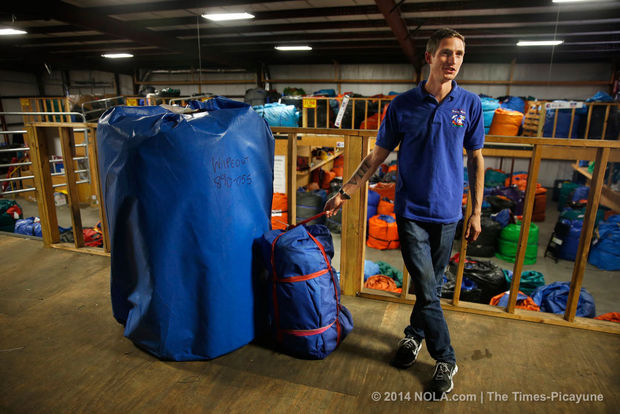 Photo by Kathleen Flynn, NOLA.com | The Times-Picayune
The above picture displays Space Walk's Director, Mials Scurlock, comparing one of our commercial-grade inflatables with a Wal-Mart-brand bounce house. These off-brand trinkets are packaged with 6-inch plastic tent stakes.
In comparison our commercial-grade inflatables generally weigh anywhere from 300 to 700 lbs, anchored by 24 inch steel stakes.
Do you guys have insurance? Are my kids safe?
Yes and yes. We carry $3 million insurance on every rental, with additional insurance options available for special events and venues. All of our branches are tested and licensed on safe sanitization, installation, and operation. We will make sure you have a safe and exceptionally fun experience on all our inflatables.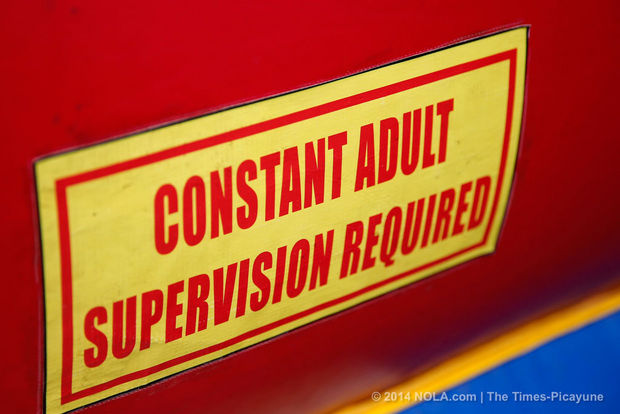 Photo by Kathleen Flynn, NOLA.com | The Times-Picayune
It is also important to know the reputation of the company you are hiring. The inflatable industry is littered with 'fly-by-night' rental shops that come and go every season. These operators are rarely licensed or insured, and cannot afford to keep their products in good repair. This leads to misuse, improper setup, and injuries.
We are a national company that doesn't gamble when it comes to safety. That's why we inspect and repair our units annually. Our Home Office production staff has over 20 years of experience manufacturing and repairing inflatable products.
What are the most typical injuries found on a bounce house?
The most typical accidents and injuries often come from lack of supervision, which leads to misuse of the product and disregard for the safety precautions, such as:
Flips, horseplay, wrestling, and other incorrect uses.
Too many participants.
Sharp objects – jewelry, shoes, et – are brought into the inflatable.
Children of mixed age and size use an inflatable at the same time.
The appropriate number of participants, listed by age group, is displayed on each unit and your rental contract.
My kids want something different than the typical bounce house, where can I get something unique?
We have over 1,000 unique inflatables in our nation-wide inventory. If your local branch does not appear, at first glance, to have the unique item you are looking for call the branch manager. They have access to search our national inventory database and arrange to have whichever unit you desire available for your event.
I am looking to save money, do you have something I can afford?
With over 200 branches we have dozens of different packages and specials. Sign up for our monthly email blast to receive discounts and specials from Space Walk directly to your inbox.
I am looking for an all-in-one package deal, do you offer those?
Yes, however these deals vary by market. Call your local branch manager today to see what they're offering in your area!
Are bounce houses made out of rubber?
Bounce houses are made from smiles, sunshine, and rainbows. (Our inflatables are made with 18 oz tear-proof vinyl, the highest industry standard).
Is my power bill going to be huge after the rental of a bounce house?
The blower runs constantly and uses approximately 14¢ of electricity per hour, utilizing less energy than most household appliances.
---
Didn't answer your question? Ask us anything in the comments below!