Carnival-themed birthday parties are popular right now, and for good reason. They make great outdoor events, they're fun, and they're easy to host. With winter almost behind us, the weather is just right to start planning for a spring or summer birthday.
You can customize your child's party based on his or her preferences, but there are a few key elements to hosting the perfect big top bash.
Bounce Houses
Of course, no carnival birthday party would be complete without bounce houses! A basic space walk is all it takes, or if you'd like to amp up the excitement, other rentals such as slides, space walk combos, and obstacle courses could be an option. Depending on the size of the party, it might even be a good idea to pick more than one. Whichever inflatable rentals you decide on, your birthday boy or girl and party attendees are sure to enjoy them!
Fun Snacks
Can you imagine going to a carnival without the food? While it's certainly an option, it might sound a little intimidating to think of whipping up funnel cakes, corn dogs, and elephant ears. Thankfully, for a kid's birthday party, you only need the basics.
In addition to inflatable rentals, you can rent popcorn and cotton candy machines from Space Walk, too. That's about as easy as it gets!
Carnival Games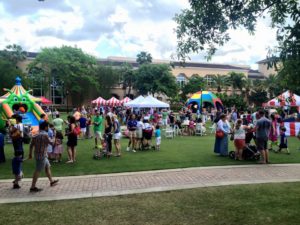 You have endless choices for games, and most of them can be made at home on a dime. Activities like magnetic fishing, squirt gun targets, clothespin drop, ball toss, and temporary tattoos are a few ideas kids love. Just don't forget the prize booth! Simple things like gumballs, bouncy balls, and rubber bracelets are sure to please, but the options are endless.
Now that you know what you need for a carnival-themed birthday celebration, it's time to start planning! We offer inflatable rentals as well as popcorn and cotton candy machine rentals all in one place. Contact your local Space Walk today for more information.